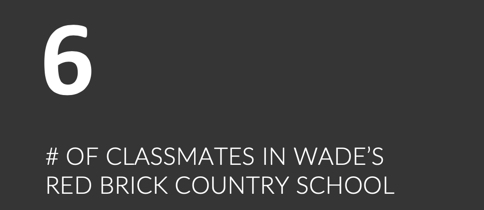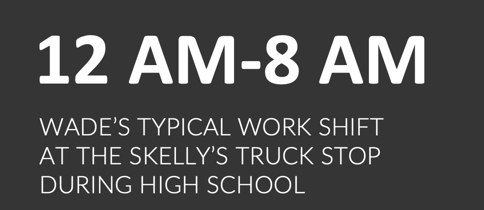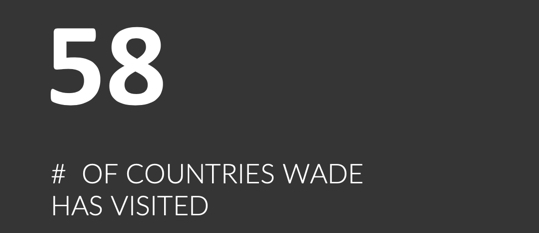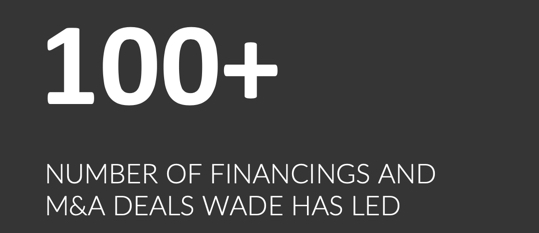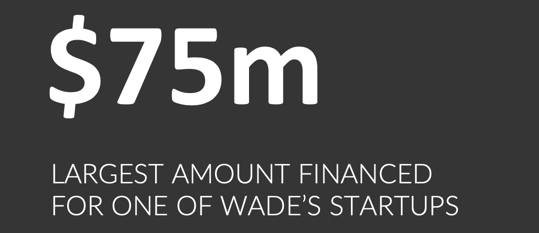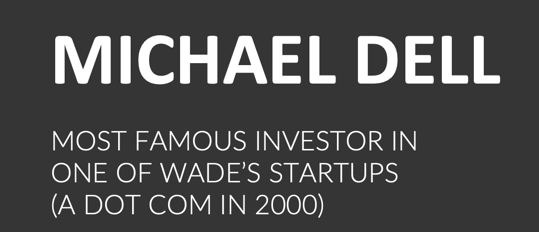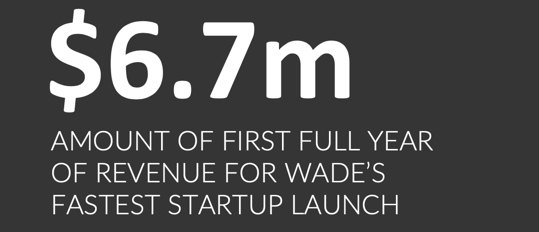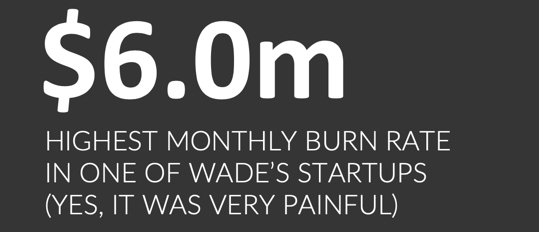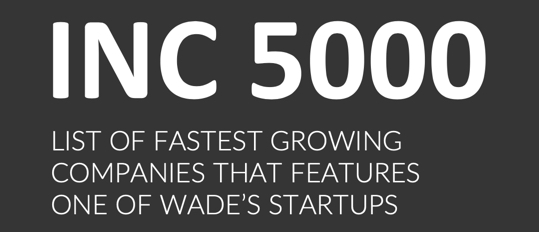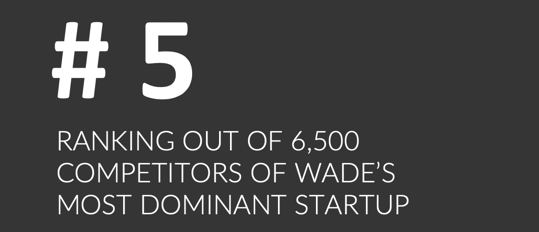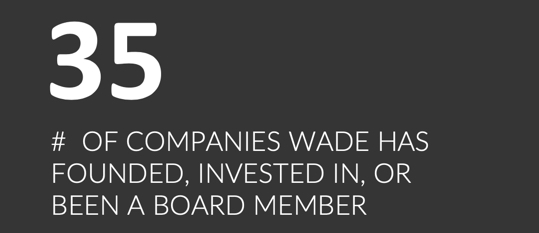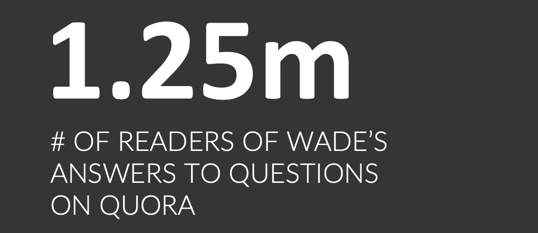 Wade is a serial entrepreneur, venture capital investor, and an advisor with deep experience with strategy, financing, and has completed over 100 financing and M&A transactions as part of his business building strategy. He started selling door-to-door as a boy and worked full time most of his high school and college years at many jobs and at-risk ventures to put himself through school.
 
His startup and business building focus has been on software and IT-enabled services companies that have high gross margins, recurring revenue, and repeatable and scalable offerings. His startups have included a digital investment banking firm, a global SaaS-based big data firm that was capitalized with $75m in venture capital prior to selling to a public company and an Inc. 5000 nationwide SaaS-based real estate services company that has grown into the fourth largest firm among several thousand competitors in its industry.
Wade's advisory skills were honed while at the Boston Consulting Group, one of the world's leading strategy consulting firms where he consulted with clients on strategy, growth, and transformation. One of his most notable achievements was helping set the stage for the transformation of travel distribution by delivering the foundational strategy for the largest Internet-based travel agency and the strategy for the first ticketless airline process for the largest U.S. airline.
Wade is an active advisor to select entrepreneurs, management teams, and corporate executives at all stages of business from startup to middle market to global 2000. His primary focus with clients is growth strategy, growth financing, exit planning, and M&A strategy and execution.
He advises clients via his digital investment banking firm Capital Works and his business planning app, Startup Financial Model, is used by entrepreneurs in over 75 countries.
Wade invests in startups and small businesses through Eagle Venture Fund, a global venture capital fund he co-founded.
He has been the chairman of a seed capital firm, venture partner for two venture capital firms, and board member of an $850m investment firm.
---
Wade has been a featured speaker at investment banking, venture capital, private equity, technology, and entrepreneurship conferences. He has also taught seminars at top business schools.
Wade's topics typically include:
ENTREPRENEURSHIP
STARTUPS
FINANCING STRATEGY
GROWTH STRATEGY
M&A STRATEGY
FAMILY BUSINESS
FAITH-BASED BUSINESS
EXIT STRATEGY
Wade attended a small red brick country school in rural North Dakota with six classmates and graduated from high school at the nearby county school with 33 classmates.
He started working as a roofer's assistant after school in the sixth grade. In high school he often worked the midnight to 8 AM shift at a local truck stop. He did his homework at the counter between refueling eighteen-wheelers, changing oil, and selling tires. After clocking out when the manager arrived in the morning, he showered in the trucker's shower and raced to school to beat the morning bell.
He was determined to go to Alaska after high school to weld on the pipeline to increase his hourly pay, but his best friend talked Wade into driving with him to college. Wade never caught the bus back home as planned after the road trip. Instead, he enrolled in college and took the first job he came to in the want ads (as a breakfast cook) to pay his tuition while crashing on a cot at his sister's home. He ended up staying in college.

Wade graduated with honors from North Dakota State University with a Bachelor's degree in Agricultural Economics. He worked full time during college at various jobs and entrepreneurial pursuits. His roles included computer programmer, teacher's assistant, heavy equipment operator (during the summers – it paid the most), and as a dance and concert producer. He washed dishes for his fraternity in exchange for meals. He joined ROTC because he needed the $100 per month and he was interested in serving his country after college. He graduated with honors.
While serving as a full-time military officer, Wade graduated from Texas A&M University's Central Texas campus with a Master's degree in Computer Information Systems with a perfect 4.00.
After returning from fighting in the Gulf War, Wade considered an MBA to further prepare to be an entrepreneur, but he was so busy working that he did not have time to study for the GMAT. Consequently he applied to the only MBA program that did not require a GMAT that year and was accepted by the Harvard Business School where he graduated as a Baker Scholar (a designation for the top 5% of the class of 918 students). Wade worked as a consultant during school to help pay the bills.
Wade continued his affiliation with Harvard as a research fellow and worked with two HBS professors to create an executive education program in Strategic Sales Management. His role included case study authoring and helping teach the first session of the program. While Harvard's interest in his return to the school to get a Doctorate degree and stay on as a professor was attractive, his burgeoning family and entrepreneurial pursuits kept him too busy to seriously consider the opportunity.
ARMY RANGER
Wade graduated from NDSU as a Distinguished Military Graduate in ROTC and accepted a regular army commission as an Engineer officer. He attended the Engineer Officer's Basic Course in Fort Belvoir, VA where he graduated at the top of his class. While at the training he was talked into applying for Ranger training by two of his friends. During the grueling program Wade lost 49 pounds on the meager rations and no scheduled sleep (meant to simulate the rigors of combat). He probably wouldn't have made it through the training without the encouragement of his friends and the wild berries he gobbled up during the Mountain phase.
SPECIALLY TRAINED
He went on to attend several other specialized training programs including atomic demolitions and munitions training, Airborne, Air Assault, and several explosives programs. His first assignment was commanding a 30-man special weapons unit that was trained to deploy regular and atomic demolitions anywhere in the world. He also helped develop new military doctrine for atomic demolitions and developmental liquid and slurry-based explosives. His assignments included serving as an executive officer for a 120-man engineer company.
SPECIAL ASSIGNMENTS
His desire to return to special operations was met with orders instead to go to Turkey and build a dam as an engineer, so he resigned his commission and headed to the corporate world. Wade continued his military service during his stint at Mobil Chemical by serving in the Army Reserves where he commanded a 160-person combat engineer company and held several facilities engineer positions. He re-entered active duty to fight in the Gulf War and was a facilities management operations executive for 600,000 soldiers and Arab liaison officer to the Northern Arab Command. He quickly learned just enough Arabic to endear himself to close Arab friends while landing in trouble on a few occasions that thankfully turned into humorous anecdotes rather than creating an international crisis.
ACHIEVEMENTS
His military decorations include the Bronze Star, Southwest Asia Service Medal with two bronze service stars, National Defense Service Medal, Kuwait Liberation Medal, Army Commendation Medal, Army Achievement Medal, Army Service Ribbon, Ranger Tab, Parachutist Badge, Air Assault Badge, and ROTC Distinguished Military Graduate. Wade held a top-secret security clearance with NATO cosmic atomal access privileges.
Wade left the military to climb the corporate ladder at the Plastics Packaging division of Mobil Chemical, a subsidiary of what was then the Mobil Corporation (now ExxonMobil). He held several positions starting as a territory Sales Representative for the state of Wisconsin, and was promoted to higher levels of responsibility including the roles of Regional Product Manager, Regional Sales Manager, Regional Product/Sales Manager, and culminating as a National Market Development Manager with executive marketing and product management responsibilities for a $150 million national product line.
His time at Mobil was interrupted for six months when he was recalled to active duty to serve in the Gulf War in 1991. While the pace of corporate life was intense and time consuming, Wade learned much from the comprehensive training and development programs and the five positions he held during his seven years at the company. While he was usually embarrassed to admit that he sold plastic trash bags, plastic grocery bags, and disposable foam plates, bowls, and meat trays for a living, the experience of sales, marketing, negotiation, and leadership equipped him well to be an entrepreneur later in his career.
Wade grew up on a small cattle ranch in the Badlands of western North Dakota. His father was Irish and his mother was from a German Mennonite family that moved to the area from a Mennonite colony in Indiana to take a land grant. Early family life was greatly influenced by Mennonite teachings and lifestyle.
The lack of resources and infrastructure meant he and his siblings were raised without electricity, without indoor plumbing, and without television (well there was a brief time of watching TV with a generator until Wade's mother caught the kids watching cartoons instead of doing their chores). The family worked hard and enjoyed a simple rural life. His parents modeled a wonderful marriage, hard work, and the need for education, even though they themselves were not highly educated (8th grade and high school).
Wade was a voracious reader as a boy and his favorite summer break was sitting in the shade under a Chestnut crabapple tree munching on apples, reading adventure stories, and dreaming of one day seeing the world outside of his small, rural county.
Wade now enjoys all of the conveniences of technology and running water in his suburban home in the Dallas/Fort Worth, Texas area where he lives with his wife Andreanna their five children.
Wade and his family look for causes they can join forces with to give back in a meaningful way. They love supporting causes that have a significant impact and an efficient use of resources in a sustainable manner
Although Wade flirted with faith earlier in life, his serious faith journey began in Dallas after graduate school where he was asked one evening by a smart, successful attorney whether or not he knew what would happen when he died. Wade responded that everyone could earn salvation through whatever religion they embraced, but he was challenged on the veracity of that response ("…how could everyone just make up their own rules about salvation and eternity and magically end up where they wanted to be?") He was then encouraged to investigate the issue of faith with the same analytic rigor he used for clients in his work at the Boston Consulting Group.
Wade subsequently embarked on a personal journey of discovery and studied the historical, mathematical, prophetic, logical, bibliographic, archeological, and scientific evidence for the truths taught by each of the major religions. As a result, many inconsistencies with religious pluralism became readily apparent. All major religions – while embracing some common good – were vastly different in terms of what they considered true, what they taught about God, the condition of man, the basis of salvation, etc. Obviously they couldn't possibly all be true – there were too many irreconcilable differences and it violated the law of noncontradiction. He began ruling out faith systems that failed his framework of truth: they were either logically inconsistent, lacked comprehensiveness, or lacked sufficient evidence.
Over that period of a year of intellectually-honest inquiry, Wade was reluctantly led to the answer that the Bible was uniquely true and that the historic person of Jesus Christ was real and needed to be dealt with: he could either accept Jesus or reject Jesus, but he couldn't deny that Jesus existed and had made unique claims. Wade decided to make a commitment as a Christian. Faith, marriage, and family have become a priority that helped him be much more "others focused" with a goal of honoring God while developing high-quality, meaningful relationships. The end result is a purposeful life that is very fulfilling and enjoyable. Life isn't any easier, but the lens through which he views the world – and the purpose for which he lives – is vastly different.